Channel escape bid kayak thief Paul Redford jailed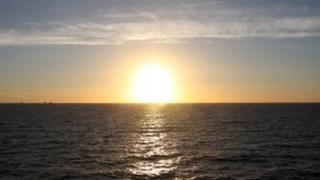 A burglar who stole a kayak and tried to paddle across the Channel to start a new life in France has been jailed.
Paul Redford, 46, of no fixed abode, was on the run after committing thefts in County Durham and Northumberland, dating back to 2011, when he took the kayak from a Sussex holiday chalet.
He was arrested after being rescued by the RNLI in the English Channel.
He admitted two counts of theft and one of burglary at Teesside Crown Court and was jailed for two-and-a-half years.
The court heard Redford, who had trials for the English homeless football team, had broken into a holiday chalet in Camber, East Sussex, in August, cooked food for himself and spent the night there.
'Kill himself'
Rachel Masters, prosecuting, said Redford spotted a kayak outside the holiday home the next morning and decided to head to France.
Police were called by a member of the public who was concerned Redford might be about to kill himself when he was spotted paddling out to sea in the kayak.
Miss Masters said: "He told the crew he had stolen it from a house in Camber. He said he was wanted by the police for a number of years and was going to get to France."
Almost exactly two years before, Redford had stolen a laptop and £1,500 in rent money from flats where he was living in Darlington.
He also stole goods worth £1,145 from a friend's house in Blyth but then stayed in London for two years, selling the Big Issue and keeping out of trouble, the court heard.
'Kiddie's life jacket'
James Fenny, defending, said Redford, with 27 previous convictions for 83 offences, was not trying to flee justice so much as start afresh.
"He gets into the boat and rather foolishly he sets out to start anew," Mr Fenny said. "He presents very well as an intelligent, polite individual who, away from drugs, is a pleasant person."
Judge Howard Crowson said: "You have a really very bad record for dishonesty, there are a large number of burglaries.
"You are capable of remaining out of trouble providing you can keep free of drugs."
After Redford's arrest in August a spokesman at Littlestone-on-Sea lifeboat station said: "We brought him aboard together with the kayak and put an adult's life jacket on him.
"He'd been wearing a kiddie's life jacket which had been in the kayak when it was taken."