Share scheme to fund Gloucester Warwickshire Steam Railways extension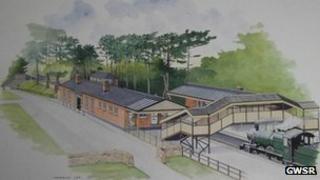 Shares are being sold in a Cotswolds heritage rail line an effort to raise £500,000 to extend it into Worcestershire.
The Gloucestershire Warwickshire Steam Railway (GWSR) currently runs between Cheltenham and Laverton.
To reach Broadway in Worcestershire five bridges "in extremely poor state" need to be repaired.
Shares cost £1 each, and are available in minimum orders of £100. They can be bought via the railway's website.
Colin Fewell, commercial director at GWSR, said. "We feel the line will only be complete when it gets to Broadway, making it a 14-mile line and one of the biggest of its type in the country."
The heritage organisation has already rebuilt platforms at Broadway and has planning permission for new station buildings.
The share scheme follows three years of disruption and £1m costs to repair two major landslips on the existing line.
The £1m costs were funded from an Emergency Appeal, launched by music mogul Pete Waterman in 2010 and made up of donations from the community and rail enthusiasts.
If the enough money is raised to extend the line it will be the first time trains have run between Cheltenham and Broadway since British Rail closed the line in 1960, a spokesperson said.