Twelve kittens dumped in box in Stourbridge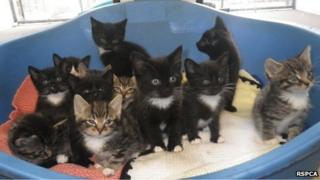 Twelve kittens are being cared for after being found in a West Midlands car park.
They were found in a large open box, with a towel covering it, in a car park near Laser Quest in Stourbridge on the evening of 24 September.
The kittens, currently being cared for by the RSPCA Gonsal Farm Animal Centre in Shrewsbury, are thought to be from "at least" two or three litters.
They appear to be in good health and the centre is appealing for new homes.
RSPCA inspector Steve Morrall said: "They were left in a place where they would have easily been found, but at the same time they could have easily got out of the box and ran off near to a main road."
Animal Centre manager Rebecca Emeny said that it had 72 cats, 42 of which are kittens.
She said: "It's been a particularly bad year. There have been an awful lot found in boxes in recent weeks."
Anyone with information about the owners of the kittens is being urged to call the RSPCA appeal line on 0300 123 8018.