Arrests follow Nottingham Forest-Derby County game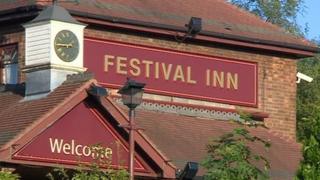 About a dozen people were arrested after a fight broke out in a pub following the Championship game between Nottingham Forest and Derby County.
Officers were called to the Festival Inn in Trowell, Nottinghamshire at about 17:00 BST on Saturday.
Between 30 and 40 people were involved in the fight and 13 were arrested for "disorder offences", police said.
Nottinghamshire Police also detained 10 people during and immediately after the match.
Supt Mark Holland said: "This took place long after the majority of supporters had enjoyed the game and made their way home peacefully.
"It is a minority who give football supporters a bad name and it should not be tolerated. If you saw anything, please contact us."
Nottingham Forest won 1-0 and news soon followed that Derby County's manager Nigel Clough had been sacked.