Southeastern trains 'leaves on line' timetable begins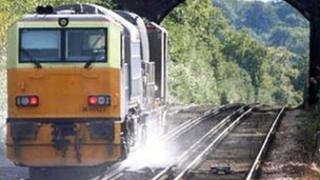 A railway timetable introduced to help train drivers cope with leaves on the line in south-east England has come into effect.
Southeastern Trains, which runs services in Kent and East Sussex, said its autumn "leaf fall" timetable would run until 7 December.
Drivers have to take extra precautions, such as braking and accelerating more slowly, with leaves on the line.
Routes with more trees have been described as "particularly vulnerable".
Network Rail said it operated a fleet of special trains throughout autumn that regularly clean the rails to remove fallen leaves, but wet, cold and frosty weather could exacerbate the problems.