Yacht Project Associates fined after Malcolm Miller blaze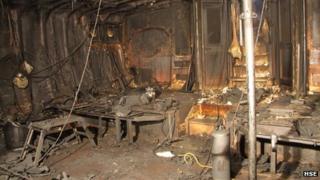 A yacht company has admitted safety failings over a fire on a tall ship which almost killed a worker.
Welder Rolf Kitching, sustained 40% burns in the blaze on the Malcolm Miller, near Southampton in 2008.
Christchurch-based Yacht Project Associates Ltd (YPAL) was fined a total of £25,000 and ordered to pay £65,000 for health and safety breaches.
The Health and Safety Executive (HSE) found hot work on the ship was badly managed, Winchester Crown Court heard.
The 1960s-built schooner Malcolm Miller was badly damaged in the fire, which broke out while it was being refurbished at Hythe Marina on 10 June 2008.
Winchester Crown Court heard Mr Kitching, 45, was employed by a separate company, and was working in a saloon area on steelwork that had been sprayed with insulation foam when the fire started.
'Matter of luck'
He was found unconscious and was initially not expected to survive, after being rescued by fellow workers.
Mr Kitching, from Portsmouth, spent four months in hospital and is still not able to work.
The court was told the incident could have been prevented had better systems been in place.
Issues included inexperienced workers, a lack of training on the risks of hot work as well as insufficient fire controls and emergency arrangements.
After the hearing, HSE Inspector Angela Sirianni said: "The fact that nobody was killed in the fire, or that other workers weren't seriously injured as well, is purely a matter of luck.
"All hot work poses risks, especially in a confined area where toxic and flammable substances are present.