A canny shopper's guide to making the budget go further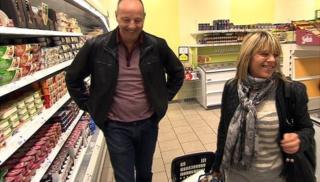 Shirley from Sunderland is a cleaner who earns just above the minimum wage.
There really isn't anything you can teach her about how to make the housekeeping budget go further.
I experienced this first hand for Inside Out (Monday, 30 September 2013 at 19:30 BST on BBC One North East & Cumbria).
As we wandered down the aisles she was heading straight for the items she had on her mental list.
By the time we got to the check-out there were still things she needed but we'd be going to another store for those.
Rise in minimum wage
Beforehand Shirley had been online researching which shops had which offers.
She has it all down to a fine art and by spending 30 minutes or so doing her shopping homework, she reckons she can save some £20 a week.
For someone on or close to the minimum wage that is a big deal.
The rate goes up tomorrow (Tuesday, 1 October 2013) from £6.19 to £6.31 an hour.
Shirley, who is also a Unison rep, thinks it's not enough to live on. She advises colleagues who she says are struggling to make ends meet.
As we add things to her shopping trolley she tells me she doesn't buy "own brands" or basic ranges. She goes for the big name products, but only when they are on offer.
She says she can get quality and still do it on a low wage, although she does admit there are weeks when she wonders how she'll manage.
From week to week her family's menu varies according to what bargains she's snapped up. Only the cat gets the same brand.
I'm deeply impressed by her maths skills. As we place the items on the conveyor belt, the assistant rings them through the till.
"How much will this lot be?" I ask.
"£20," she responds without a moment's hesitation and the relevant note is already out of her purse.
As the final item is bagged the total flashes up. It's around 40p under her guess, and that was only because we were distracting her with our filming.
Tougher enforcement
How many people can tell you the price of a loaf of bread or a litre of milk?
If they can't, it means their wage allows them the luxury of just filling their basket up with whatever takes their fancy.
When I met Vince Cable to quiz him on the government's plans for the minimum wage I slipped in a question that seemed to catch him off guard - for a split second at least.
I worked out that in the 30 minutes that Inside Out is on air, the Business Secretary would have earned £32 compared with £3.15 for someone on the minimum wage. How fair is that?
"It's not," he admitted candidly and he'd certainly want the minimum wage to regain the ground lost against the rising cost of living. That however would take time.
The government takes its lead from the Low Pay Commission. The body is made up of employers and workers' groups and it makes a recommendation on where the minimum should be set.
What about Labour's policy announced at their conference that they'd up the fine for firms underpaying their staff from £5,000 to £50,000?
The Lib Dem coalition minister said he was open to that idea, but in the meantime his priority is to ensure that enforcement is toughened up.
He said that any company found wanting would actually be named and shamed - something that had been promised but not delivered in the past.
What's your take? Why not add your comments below...
Inside Out is on Monday, 30 September at 19:30 BST on BBC One and nationwide for seven days thereafter on the iPlayer.