Dartford free-flow crossing plan sees £367m deal signed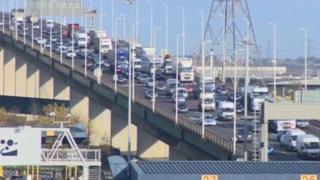 A £367m contract has been awarded for a free-flow charging system to be installed at the Dartford Crossing.
Under the scheme, barriers will be removed from the crossing between Kent and Essex in October 2014.
Drivers will be recorded via number-plate recognition cameras and payment will be made by phone, text, online or in shops or by using pre-paid accounts.
The Highways Agency said the French firm Sanef would design, implement, deliver and operate the scheme.
Nigel Gray, agency project manager, said: "Once it is fully implemented, drivers will not have to stop at the barriers, but will pay for their journey remotely. This will reduce congestion and ease traffic flow."
Francois Gauthey, chief executive of Sanef, said the work would bring "vital improvements" to the crossing and help drivers who were frustrated with congestion.
The contract covers a seven-year deal with the possibility of it being extended for a further three years.
It includes implementing vehicle detection, and delivering and operating back office services such as payment processing, account management, handling inquiries, and enforcement.
The Highways Agency said £367m was the full potential value of the contract for these services up to 10 years.
Roads minister Stephen Hammond said better traffic flow at the crucial gateway would help thousands of drivers who use the crossing every day.