New fisheries patrol boat launched in West Bay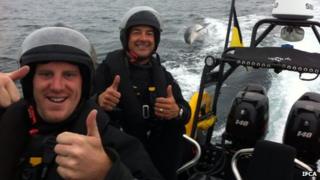 A new fisheries protection boat has been launched to patrol the seas off the south coast.
The Southern Inshore Fisheries and Conservation Authority (IFCA) craft will monitor fishing off Dorset, Hampshire and the Isle of Wight.
The four-person 8m (26ft) rigid inflatable, FPV Protector, has top speeds in excess of 40 knots.
Ian Davies of IFCA said it would "increase our operational capability to undertake patrols".
The boat will monitor inshore commercial and recreational fishing activities, is fitted with advanced navigation and radar systems and has night-time capability.
Mr Davies said: "Patrols are necessary to monitor and manage fishing activity, and to ensure compliance with environmental and fishery regulations and to support the local fishery."
On its maiden trip from West Bay, Dorset, the crew encountered a pod of 30 dolphins in Lyme Bay.