PM claims local council cuts are 'relatively modest'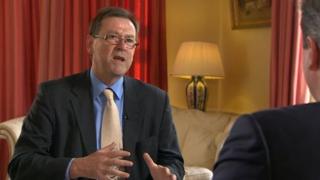 It's a moment that many Prime Ministers dread. It comes during a TV interview, when a newspaper headline is brandished .
"Devastating" screamed the headline of the Derbyshire Times. Its story told of big budget cuts at Derbyshire County Council.
Its chief executive was quoted saying :"We've known nothing like this since the great Depression". Its Labour leader Anne Western warned of 1,600 job losses.
So what was David Cameron's response?
"There's a danger they are trying to play blame game," he told me.
"When you look at the cuts and the additional cuts they are being asked to make, they are relatively modest and can be done."
As he took in the headline, the prime minister looked unfazed and at ease.
"I praise local councils for what they have done so far to make efficiencies without hitting front-line services. They can go on doing that."
It's not just the new Labour-leadership of Derbyshire and Nottinghamshire who have warned of the "dire" consequences of finding additional budget cuts.
The ruling Conservative leadership of Leicestershire County Council has been lobbying local MPs.
Its leader Nick Rushton is already talking of re-drawing the local government map to create bigger local authorities. He's warning that many councils can't take further cuts.
Speaking to me in Downing Street, the prime minister was adamant that town hall budgets could cope.
"Local councils have shown they can find efficiencies," he added.
"Of course, it's difficult. But the sort of extra cuts being asked for are relatively modest. Something like 2.3% is not impossible to do."
Another pressing issue for local government is planning and the demand of finding sites for new homes. Existing housing targets and the areas earmarked for development have been hugely controversial.
The National Housing Federation says the East Midlands is only building 45% of the new homes actually needed to meet growing demand.
It welcomes Ed Miliband's pledge to build 200,000 new homes a year, if Labour forms the next government.
'Trust local councils'
Conservative MPs in marginal seats were quick to tweet their opposition. Many housing experts have warned of a real grid-lock.
So I asked the prime minister, just where are the new homes going to come from?
"We are sorting it out and we are reforming the planning system so that new houses can be built," he said.
"We are also helping house builders by introducing the 'Help to Buy' scheme so that mortgages are unlocked.
"My view is that if you trust local councils, they'll ensure the homes are built in a way that local people support.
"That's what we've put in place and I'm confident we'll get the housing we need."
I found the prime minister was on form and pretty confident in himself, going into his party's annual conference in Manchester.
But he may find some of his local government colleagues unsettled by his comments about council budgets.
"Relatively modest"? That comment may come back to haunt him.