A14 toll: David Cameron says 'pay for benefits'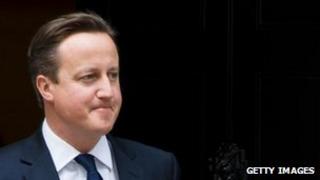 People using an upgraded section of the A14 should pay a proposed toll because "the government can't just create money", the prime minister has said.
The Highways Agency is consulting on proposals to charge motorists on a new stretch through Cambridgeshire, to help fund the overall £1.5bn upgrade.
"People who are going to benefit... should pay something towards it," Mr Cameron told the BBC.
However, he said the government would "listen carefully" to all views.
The Highways Agency plans for the A14 - which links the ports of Felixstowe with the Midlands and M6 via Cambridgeshire and Northamptonshire - include a new 12-mile (19km) bypass south of Huntingdon.
About 20% of the overall cost of improvements - £300m - is expected to be raised by tolling that stretch.
The plan has proved unpopular with hauliers who say it leaves them with little alternative but to use the stretch and pay the toll.
Mr Cameron said he understood there would be alternative routes, but added: "I think there is a strong case for saying when you're putting in new capacity, when you're dealing with congestion, that some of the people who are going to benefit from that, should pay something towards it.
"Everybody knows that we're living in circumstances where the government can't just create money," he said.
"We have to live within our means. If we want transport programmes to go ahead - but we deal with our deficits and debts at the same time - we sometimes have to make some tough decisions."
Mr Cameron was reiterating the views of his deputy, Nick Clegg, who earlier this month told the BBC tolling the road was necessary to "share the burden" of the upgrade cost.
However, earlier this week, Labour shadow transport secretary, Maria Eagle, said she was "not convinced" by the plans and said her party would reconsider proposals to toll the A14 in Cambridgeshire if it wins the next general election.
The prime minister said: "[This] is a consultation so we have to listen, but as I've said, and I don't think I can be more plain, when you're living in difficult economic circumstances and you want roads to be built, on occasion it's right to ask people to make a contribution."