Devil's Bridge 'tombstoning' man fined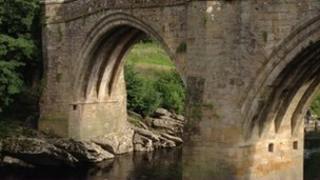 A man who was caught "tombstoning" off a bridge in Cumbria has been fined.
Michael Sharkey, 24, from Gressingham Drive in Lancaster was fined £170 at Kendal Magistrates' Court.
He was charged with contravening South Lakeland District Council's by-law that prohibits people jumping off the 30 ft (9m) high Devil's Bridge in Kirkby Lonsdale into the River Lune.
Insp Paul Latham said Cumbria Police were working with the council to "tackle the dangers" of the activity.
Tombstoning involves a participant jumping from a high point into a body of water, entering it vertically to resemble a tombstone.
'Irresponsible actions'
In July 2012, a man died after jumping from the bridge into the river, which can be only 16 ft (4m) deep.
Mr Latham said there were a "number of risks associated with jumping off a bridge including hitting rocks, misjudging the depth of water and sudden immersion in cold water".
"This fine shows we do take this activity very seriously and work closely with South Lakeland District Council to tackle the dangers.
"If someone jumping is reported to us, we will attend and take further action as appropriate."
The by-law, that prohibits people jumping off a number of bridges in the area, was put in place in the 1990s.
The council's John Barwise said the prosecution showed "the irresponsible actions [of those who] risk death or serious injury by jumping off the bridge" would not be tolerated.