An evening in the cull zone with the wounded badger patrollers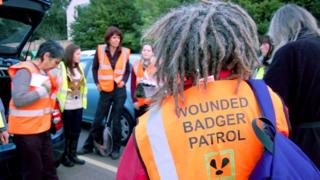 As the badger culls in Somerset and Gloucestershire enter the final weeks, a diverse group of people come together to carry out nightly patrols for wounded badgers.
They range from teachers, firemen, vets, librarians and computer programmers, to graphic designers, doctors, council workers, surveyors, nurses, counsellors and opera singers.
They have come from all over the UK - from Wigan, Swansea, Brighton, Wolverhampton, Cornwall, Manchester, Oxford and London, and, more locally, from Gloucestershire.
The one thing that unites members of the Wounded Badger Patrol is their opinion that the badger cull should not be taking place and the extreme lengths they go to to get involved.
Defra, the government department responsible for the cull, hopes to kill 5,000 badgers (70% of the local badger population) over a six-week period in a test to see whether culling can be carried out in a safe, humane and effective way.
At Newent, on the edge of the Forest of Dean, small groups set out to walk footpaths near to badger setts.
Their aim is not to disrupt the cull but to get help for any badger they find that has been wounded.
One regular patrol member, student Alex Blundell and his partner feel so strongly about it they normally get a babysitter to look after their young child so they can attend.
On this evening, though, due to a lack of a babysitter, his partner has had to stay at home.
"We got involved with lobbying people and signing petitions, and that clearly wasn't working, so when this started we wanted to do something that was within the law but that we could do and make a stand, " Mr Blundell said.
"I was up at 6am this morning and I'll be up at 6am again tomorrow. A lack of sleep is worth it because we're making a difference.
"Every night we're out here, if we can save even one badger's life, it's worth it."
Caroline Allen, a vet and national spokeswoman on animal issues for the Green Party, had travelled from London by train earlier that evening to take part in the patrol.
"We want to be here to show solidarity with the protesters. We know that the cull is completely unscientific, unethical and will be inhumane," she said.
"As a vet I'm completely against the cull. I'm disgusted that some of my professional organisations have shown their support.
"We don't want to see TB, we want to support farmers, but this cull is absolutely the wrong way of going about it.
"When you graduate as a vet you make an oath, a bit like the doctors' Hippocratic Oath, that above all else you will put animal welfare ahead of everything.
"We feel the chief vet in Defra and the vets in the British Veterinary Association have failed in that pledge.
'Pointless'
Will Ricks, a surveyor from Ross-on-Wye, said he had met a "real mixture" of people.
"They are teenagers up to 70-year-olds. In a field the other night at midnight I bumped into two people who had driven down from Manchester for the evening.
"They stayed until 2am and drove back to go to work in the morning.
"We're all people who have a strong view that [the cull] is completely the wrong thing to do and it's completely pointless."
At a sett on the Wounded Badger Patrol's rounds, we meet Lesley Martin, a member of the Cheshire Hunt Monitors - a group affiliated to the League Against Cruel Sports - who has driven from Chester to be there.
"Most of the time you sit doing nothing for a long period of time getting very cold," she said.
"But on one occasion a shooter came into the field to pre-bait, when they put peanuts usually in holes to encourage the badgers to stay put while they eat so they can shoot them more easily, and police turned up.
"They were encouraging our team to leave, saying they were trespassing, but they showed them maps which showed they were on a footpath.
"The police and the shooter eventually left. That's happened three of four times here since the cull began.
"I don't agree with the cull. I think it's really important to show strength in numbers to show the government the cull is a farce."
During the time the BBC was with the patrol, no badger or shooter was seen. Mr Blundell said that did not make the patrol a waste of time.
"That doesn't mean that we haven't stopped badgers being shot," he said.
"If it's a quiet night then that's a good thing because we're doing our job. That's what we're here for."
With campaigners on the one side and farmers on the other, Inside Out West spends a night with those in the middle - the police. BBC One, 19:30 BST, Monday 30 September.