Coastguard stations 'to close towards the end of 2014'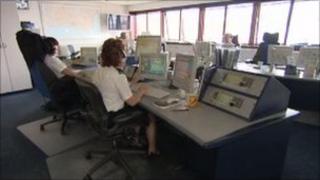 The Solent, Portland and Brixham coastguard stations will close towards the end of next year, the Maritime and Coastguard Agency (MCA) has said.
The stations, which co-ordinate search and rescue services, are being replaced by the operations centre in Segensworth, Hampshire.
The stations in Solent and Portland will close next September and Brixham's will shut in November.
They were provisionally set to close by next April.
The new Maritime Operations Centre will be run alongside nine other 24-hour centres around the UK.
'Local kickback'
The MCA said there would be no reduction in rescue resources.
The majority of staff from the south coast stations were expected to relocate to the new centre, which is expected to be operating from autumn 2014.
Sir Alan Massey, MCA chief executive, said: "There's been a lot of local kickback and I can completely understand it.
"I can really reassure people that what we're doing is going to improve the service that they get."
The agency said Dorset's coastguard helicopter base at Portland was still expected to close in 2017.
South Dorset MP Richard Drax said he was fighting "tooth and nail" to retain the centres and helicopter base.
"The fact we now have a date is of no comfort to me," he said. "Centralisation is not always the right answer.
"The men and women who work at the centres live there, they get up there every morning, they know the place intimately, they can assess instantly which asset to use to rescue people."
An online petition led by Mr Drax opposing the closure of the Portland helicopter base attracted 17,000 signatures.
A Public and Commercial Services Union spokesman said the plans would "put lives at risk" and that the "people of Brixham and across the South West don't want it".