Outlaws motorcycle gang targeted by police in raids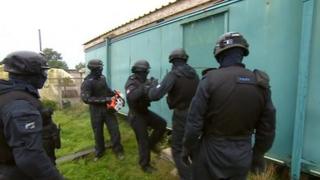 Eighteen people have been arrested in a series of raids targeting organised crime groups.
West Mercia Police said officers had executed warrants for drugs and sex offences across Herefordshire and Gloucestershire.
They also raided a warehouse used by members of the Outlaws, a notorious motorcycle club.
Supt Ivan Powell said the group was believed to be connected to a serious assault at a pub in Herefordshire.
"We've arrested a number of people we believe to be involved in a serious assault which took part at the Broad Leys pub," he said.
"We class them [the Outlaws] as an organisation that is an organised crime group."
The Outlaws' website states: "We may not live by the rules of society, but we do live by its laws."
The force tweeted that officers had seized a firearm, a suspected stolen motorbike, class A and B drugs, a banned breed of dog and offensive weapons.
They wrote: "Officers then moved on to industrial unit on outskirts of Hereford in hunt for evidence in relation to an assault."