Norovirus outbreak shuts ward at East Surrey Hospital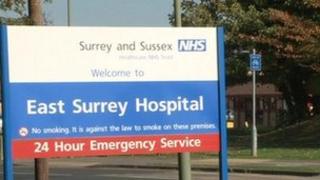 A ward at a hospital in Surrey has been closed to visitors due to an outbreak of the norovirus sickness bug.
East Surrey Hospital, in Redhill, said several patients in the Tandridge ward had been experiencing diarrhoea symptoms. It is the only ward affected.
It said the decision to close the ward "had not been taken lightly", and was necessary to protect patients.
It is the first hospital in the South East to be hit by the seasonal virus, which causes vomiting and diarrhoea.
Anyone with the symptoms is asked not to come to the hospital for 48 hours after they have fully recovered unless they have been told to do so by their GP.
The hospital, which serves parts of Surrey and Sussex, said that in exceptional circumstances visitors could speak to the ward manager or nurse in charge of Tandridge.
Several wards were closed at the hospital in November and December last year due to an outbreak of the bug.