Bexhill rape attempt: Soldier Trevor Clark jailed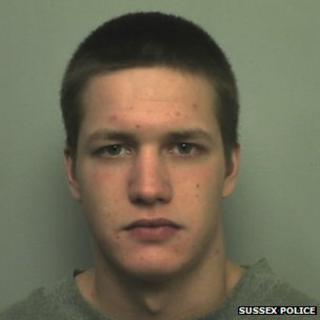 A soldier has been jailed for six years for a sex attack in which he strangled a woman in a bid to rape her.
Trevor Clark, 21, who was living in Buckhurst Road, Bexhill, at the time of last year's attack, was sentenced at Lewes Crown Court.
He was convicted of strangulation with intent to rape at an earlier hearing.
Clark, who had completed his initial Army training, was stationed at Catterick Garrison in North Yorkshire when he was arrested.
Offenders register
He was jailed for six years and made subject to licence for a further four years.
Police said he would also be on the sex offenders register for life.
Clark attacked the 18-year-old woman, who was a stranger to him, in New Park Avenue in the early hours of 19 August 2012, as she walked home from the railway station. He was arrested six days later.
After the hearing, Det Insp Mark O'Brien said it was a "heinous crime".
He said the victim could have been spared the experience of having to give evidence during the trial, but added: "Clark, despite the weight of evidence against him, maintained his innocence, which was entirely misplaced."
Det Insp O'Brien said if it not for the intervention of a member of the public, Clark would have played out "his vile intent".