Pamela Jackson trial: Hundreds searched for body in snow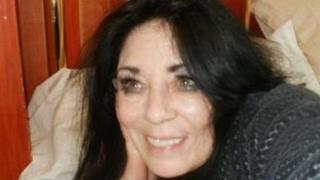 The investigation into the disappearance and death of Pamela Jackson - "Operation Sorrento" - was one of the biggest ever undertaken by Durham Police.
It began on the evening of Thursday, 7 March 2013 - five days after she was last seen - and when the 55-year-old was reported missing by her youngest son, Joe, with whom she lived at the Crescent, Chester-le-Street, County Durham.
Taking into account the preparation of files and evidence, the investigation took six months, Durham Police said.
During this time officers took 177 statements and interviewed 167 potential witnesses, friends and family.
A team of 165 police officers was also involved, with 75 working at any one time on its busiest days - especially during the hunt for Ms Jackson's body.
As well as detectives from the major crime team, other specialists included dog handlers, intelligence analysts and technical experts who examined mobile phones and computers for evidence.
A total of 15 interviews were conducted with Adrian Muir, including two after he was charged with murder.
Shallow grave
From the burial site police recovered a transit van's worth of rubble, clay and other material.
Specially-trained search officers from Durham Police covered a number of locations in the Chester-le-Street area once Ms Jackson was reported missing.
At the same time, they were starting to plan identical work at a number of locations around the moors across the border of the West Yorkshire and Greater Manchester police areas, where mobile phone records and other intelligence had pinpointed Adrian Muir's movements.
The road closest to where her body was discovered was the B6138 or Turvin Road, near Ripponden.
The long winter and cold spring meant at times the search teams were confronted with several feet of snow, which led to Turvin Road being closed for a week.
Each week a team of around 20 officers left Durham and travelled to Yorkshire, where they received support from West Yorkshire Police.
The West Yorkshire force usually sent a team of 12 officers but on some occasions were able to send two teams. This meant on the busiest days more than 40 officers were scouring the moors looking for clues which would lead them to the victim and trap her killer.
Help also came from the police marine units from the North West and Humberside.
The area was also searched from the air and dogs and volunteers from local search and rescue teams also combed the moors.
After weeks of searching, Ms Jackson's remains were found in a shallow grave on moorland, more than 120 miles away from her home.
Adrian Muir was eventually cleared of her murder but found guilty of manslaughter.