MCA calls for seabird pollutant PIB reclassification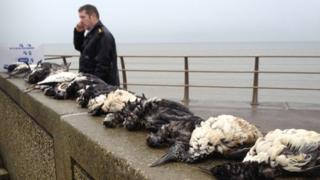 UK maritime chiefs are to ask the international governing body to reclassify a pollutant that affected thousands of birds on the south coast.
More than 4,000 birds were killed or injured by the chemical polyisobutene (PIB) between Cornwall and Sussex, and on the Channel Islands.
The Maritime and Coastguard Agency will submit its request to the International Maritime Organization (IMO) later in the year.
The move has been welcomed by the RSPB.
The wildlife charity hopes the review of the hazard classification of the substance - found on seabirds in two separate instances between January and May - will lead to a ban on discharges at sea.
'Glue-like' substance
It is currently legal for discharges of PIB, a lubricant used to improve the engine performance of ships, to be made when vessels wash out their tanks.
However, restrictions include them having to be made further than 12 nautical miles from the nearest point of land.
An MCA spokeswoman said the reclassification of PIB "could take some time" because it is regulated internationally, but added the MCA was "taking steps to see if things can change".
If approved she said it could affect the way the substance is discharged in the future.
The MCA is expected to present a paper to the IMO in either October or November.
The IMO is the United Nations agency responsible for the safety and security of shipping and the prevention of marine pollution by ships. It consists of 170 member states, of which the UK is one.
The organisation has confirmed a number of European countries, including the UK, have been investigating the discharge of "high viscosity products" by chemical tankers, including PIBs.
The application by the MCA is expected to be approved unless any of the member states lodges an objection.
The RSPB is planning its own campaign strategy on the matter and will give evidence to the government about PIBs at a meeting of the transport select committee in November.
It said the substance becomes "glue-like" in the sea, covering birds and restricting their movements and ability to feed "causing immobilisation, hypothermia, starvation and eventually death".
In August, the MCA said it had been unable to trace the vessel the contamination spill had come from and closed its investigation.