Queen Elizabeth Hospital staff join mouth cancer campaign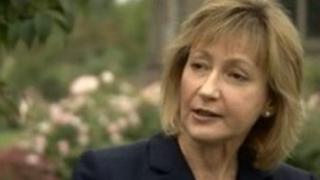 Health staff in Birmingham have joined a European campaign to raise awareness of head and mouth cancer.
The European Head and Neck Society (EHNS) said it was the sixth most common type of cancer in Europe.
Staff from the Queen Elizabeth Hospital Birmingham (QE) said patients and primary care providers do not always recognise the symptoms of the disease.
For example, Kay Pinnell of Worcestershire said her mouth cancer was mistaken as "mild toothache".
Jaw removed
"I was getting occasional toothache so I went to the dentist where an X-ray found a shadow," said Ms Pinnell.
"The dentist thought it was an infection so I was given antibiotics.
"I went to the orthodontist [for some other work to be done] and they sent the X-rays to the Worcestershire Royal Infirmary."
Ms Pinnell said she was only diagnosed with cancer in June 2011, by which time part of her jaw needed to be removed.
"I went numb when they told me but [the cancer] was gone by that point and I was reassured it had all been taken out," she said.
"I hadn't got a clue and didn't really think toothache could be cancer.
"It was difficult at the time - as your whole face swells up - but I had a lot of support."
The EHNS said mouth and neck cancer affects mainly men over the age of 40 but is on the increase among younger men and women too.
Sat Parmar, consultant surgeon at the QE, said: "If you pick up the cancer early, there is a an 80 to 90% cure rate.
"However, in 60% of all the patients we see, the cancer is not picked up until later and that means the cure rates fall sown to 20 per cent."
A team of consultants from the QE will be in Birmingham city centre on Wednesday to help raise awareness of the symptoms of mouth cancer.