RAF Vickers VC10 flown home to retirement in Surrey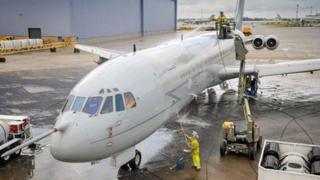 The last Vickers VC10 built in the UK has been flown to a Surrey airfield after being retired from RAF service.
The aircraft, which carries the RAF serial number ZA150, touched down at Dunsfold Park at 13:20 BST after flying from Brize Norton, Oxfordshire.
It was one of two VC10s used as air-to-air refuelling tankers, which both flew their final missions on Friday.
ZA150 was the last VC10 of 54 built at the Vickers factory at Brooklands in Weybridge in the 1960s.
About 200 people watched the final landing of the VC10, which was flown to its new permanent home by a six-strong crew.
The aircraft is to be displayed at the airfield, whose staff have worked with Brooklands Museum to return it to its home county.
"It is hugely important for us to have saved this aircraft as the last heavy airliner ever to be completely built at Brooklands - and indeed in the UK," said director of Brooklands Museum, Allan Winn.
"It is also significant as its retirement marks the end of an unbroken century of front-line service by Brooklands-built aircraft with the British armed forces.
"That is a unique record."
ZA150 was originally built as 5H-MOG for East African Airways.
After its airline service was completed, it was stored at Filton in Bristol for several years before making its first flight as an RAF tanker in 1984.
Brooklands was a centre for aircraft design, construction and testing from 1907, before the factory finally closed in 1986.
A motoring and aviation museum is now at the site, which was also the home of the world's first purpose-built motor racing circuit.
The RAF operated 28 VC10s, which gave 47 years of service.
Its replacement, the Voyager, is the RAF's largest aircraft, with a 60m (197ft) wingspan, and is also nearly 60m long.