Bishop of Hereford retires from role after nine years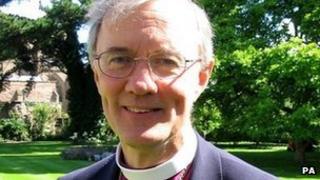 The Bishop of Hereford is carrying out his final day of duties after nine years.
The Right Reverend Anthony Priddis is retiring from the role, exactly 41 years after his ordination as a deacon in Canterbury Cathedral.
He will become a parish priest and assist the bishops of Worcestershire, Monmouth and Gloucestershire.
Bishop Priddis said being a bishop was "joyfully relentless", but it was time to move on.
Women bishops
The diocese covers Herefordshire, south Shropshire, parts of Worcestershire and 12 parishes in Powys and Monmouthshire.
Bishop Priddis said: "It's not stopping, it's changing gear… I shall carry on being a priest and bishop, I shall be an assistant bishop in quite a few of the diocese around.
"I would have waited, if it had been possible for my successor to be a woman… but I'm afraid that still looks a few years away in the Church of England."
When his retirement was announced in March, Bishop Priddis said the rejection of the appointment of women bishops by the Church of England general synod last year had had a "bearing" on his timing.
A farewell service was held at Hereford cathedral on 7 September and his replacement will be chosen during the next few months.