Covpress in jobs hope over new £3m machine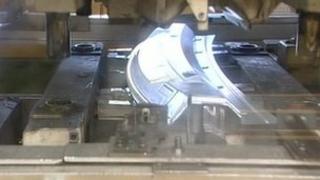 A car parts manufacturer says it intends to create jobs as a result of a £3m investment in equipment.
Covpress, in Coventry, said its 1,000-tonne machine makes body sections for overseas exporters, including Jaguar Land Rover and General Motors.
The firm was bought in July for £30m by Chinese automotive supplier Shandong Yongtai and Shropshire-based tyre-specialists TIA Treadsetters.
The press is the final part of a £30m investment project which began in 2000.
There would be a "substantial" number of new staff, depending on the amount of new orders, the company has said.
Senior executive officer Kit Halliday said: "We've already taken on a number of new staff in the commissioning and installation process.
"But, in terms of the Midlands economy, as orders increase, it's our intention to employ more people to handle the extra output.
"This investment is further evidence of the increasing strength of the manufacturing sector in the region."
The Covpress factory roof in Burnsall Road had to be removed to accommodate the installation of the press, which can produce 70,000 individual vehicle parts in 24 hours.