Quarter rise in South West summer RNLI lifeguard call-outs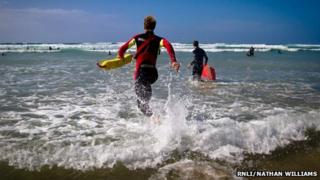 There has been a 24% rise in the number of summer incidents dealt with by South West lifeguards, figures from the RNLI have shown.
Between June and August lifeguards were involved in 10,615 incidents compared to 8,585 in 2012.
However, across the region there was a fall in the number of lifeboat rescues, except in Devon.
A charity spokeswoman added that the "statistics reflected the weather".
'Huge numbers of people'
In 2012, there were 218 lifeboat launches in Devon compared to 248 this summer.
The RNLI said its figures showed that five of the six busiest lifeboat stations in the region were in Devon.
Andy Hurley, from the charity, said: "The warm temperatures and sunshine attracted huge numbers of people to the region's most popular beaches, which explains why our lifeguard teams were kept so busy."
The charity added that the calm weather might have caused fewer boats to get into difficulty, which reflected the drop in lifeboat rescues across the region.
In 2010, the RNLI said lifeguards and lifeboat crews in the South West had had their busiest year, with 16,000 people helped across the area.
The South West region includes Cornwall, Devon, Dorset, Somerset and the Channel Islands.