Gloria Foster death: Care report 'not independent enough'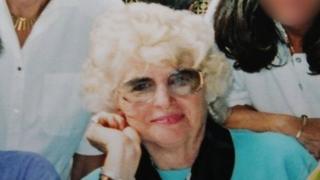 A report released last week into the death of an 81-year-old woman who was left without food for nine days was not independent enough, a councillor said.
Gloria Foster, from Banstead in Surrey, died in February after her care agency shut with no replacement, following a police and UK Border Agency raid.
Ex-Surrey County Council leader, Andrew Povey said two senior council figures supported the safeguarding panel.
The council said its report was "completely independent".
Two members of staff have been suspended, pending disciplinary action, following the publication of the serious case review by Surrey Safeguarding Adults Board.
Dr Povey said: "I think for the public to have confidence in it then this should have been done by people not associated with Surrey.
"In particular, when you look at the report you'll see that support to the panel was provided by a senior lawyer from Surrey County Council and a senior member of the adult social services team.
"It just seems to me to get the objectivity that was required [for the report] should have had an outside party."
'Failed Gloria Foster'
He added: "I think a really robust independent report with a bit more strategic thinking about it and a bit more analysis would have been much better, would have put Surrey County Council as world class."
In a statement, Surrey County Council said: "We are very sorry that we failed Gloria Foster.
"This was an operational failure and it is right that two staff members now face disciplinary action.
"The county council appointed an external investigator to complete its section of the review and ensure the findings were completely independent."
The widow was found by a district nurse suffering from dehydration and starvation nine days after Agency Carefirst24 was shut down. She died in hospital two weeks later.
The Surrey Safeguarding Adults Board report into her death found "professional omissions" were made by a social worker at the Reigate and Banstead office.
The board published 14 recommendations, including requesting council investigations into how information supplied by the Metropolitan Police before the raid was dealt with and the absence of any record of a telephone call being made to Mrs Foster to check her welfare.