Blackpool lifeboat call-outs rise by 22% says RNLI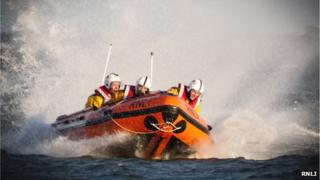 Blackpool's lifeboat call-outs rose by 22% from last year because of the hot summer, the Royal National Lifeboat Institution (RNLI) said.
The seaside town had the busiest crew in the north of England with 62 launches in June, July and August.
Sunderland and Redcar - which both saw 45 launches in the same period - were named as the next two busiest stations.
A spokesman for RNLI said the good weather had seen more people head for the coast.
Blackpool's inshore lifeboat team saw an increase from 51 in 2012, Redcar's jumped from 24 while Sunderland's figure stayed the same.
Other stations which recorded a high number of launches were New Brighton, which saw 34 compared to 16 the previous year and Hartlepool with 30 compared to 19 in 2012.
Keith Horrocks Blackpool RNLI Lifeboat Operations Manager, said: 'Even the naming ceremony of our new lifeboat was interrupted by a rescue call."
Dave Cammish, Redcar RNLI Lifeboat Operations Manager, said his crew had had a "hectic summer", adding: "I can't praise them enough for their commitment."
Matt Horton, RNLI Senior Lifeguard Manager, said this year's increases were due to the greater numbers of people heading to the seaside drawn by the hot weather.
He added: 'Last year, the poor weather kept many people away from our beaches."
Mr Horton also said that overall people were embracing the RNLI's safety messages, which meant the number of incidents had not risen "too sharply compared to the increased volume of beach users".