Frack Free Fernhurst in anti-fracking balloon protest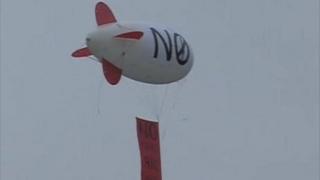 Protesters opposed to plans to drill for oil and gas in West Sussex have been using a barrage balloon to publicise their case.
Frack Free Fernhurst claim it shows the proposed height of a rig that Celtique Energie would build in Fernhurst.
But the company said it did not accurately represent how the rig will look on its "carefully selected and well screened site" near the village.
A planning application for the Surrey border site has not yet been submitted.
Campaigners fear contractors will ultimately have to frack to extract shale gas.
'Lit at night'
Martyn Knights, of Frack Free Fernhurst, said the balloon illustrated "to everybody in the community that when this thing is running - 24 hours a day, seven days a week - fully lit at night, it's going to be visible from a long, long way away".
A spokesman for Celtique Energie said it would be hosting the first of regular community surgeries in the area later this month to discuss its proposals in detail and answer questions.
The company also has plans to drill at a site near Kirdford and Wisborough Green, in West Sussex.
Campaigners have expressed concern that Fernhurst, an Area of Outstanding National Beauty within the South Downs National Park, could become the next site for anti-fracking protests.
Protests took place in the West Sussex village of Balcombe during the summer over plans for test drilling for oil by the company Cuadrilla.