First steam train in 50 years arrives at Robertsbridge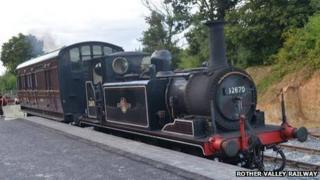 A 141-year-old steam locomotive has returned to a town in East Sussex for the first time in more than 50 years.
The return of the passenger service to Robertsbridge is a major step forward in the reopening of the Rother Valley Railway between the town and Bodiam.
Shuttle services along half a mile of newly relaid line from Robertsbridge station to Northbridge are running this weekend to commemorate the event.
The last public steam service ran on the line in 1961.
It is part of a long term project to reinstate a total of three miles of line and link to the Kent & East Sussex Railway (K&ESR) at Bodiam.
Passengers will then be able to travel between Tenterden in Kent, and Robertsbridge.
The K&ESR is also operating special passenger services between Tenterden and Bodiam this weekend.