Part-time Devon and Somerset firefighters 'affect fitness figures'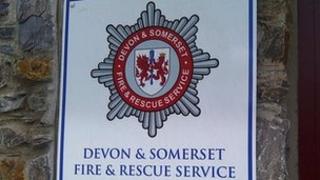 Figures revealing that nearly a third of firefighters in Devon and Somerset are not deemed fit are because the service has a high level of part-time staff, a union has said.
About 30% failed to reach a recommended fitness standard in the past year, an investigation by BBC 5 Live found.
The Fire Brigades Union (FBU) said that part-time staff did not get allocated fitness training time.
Devon and Somerset Fire Service said it had fitness improvement programmes.
'No surprise'
The service has about 1,200 retained firefighters and 800 full-time at its 85 fire stations in both counties.
Trevor French, of the union in Devon, said the fitness figures were down to the service being "the largest employer of retained or on-call firefighters" in the country.
He said: "Unlike whole-time personnel, they don't get time to train or maintain fitness.
"Bearing in mind they have other primary employment, it's no surprise at all."
Devon and Somerset Fire Service said staff were assessed every three years and those who did not meet the standard were given a fitness improvement programme.
It added that the general health and wellbeing of staff also remained a personal responsibility of every firefighter.
BBC 5 Live Investigates submitted Freedom of Information requests to 52 fire services asking how many firefighters had failed fitness tests between May 2012 and April 2013.
Of these, 36 fire services provided figures, which have not previously been compiled and published. Of 24,272 tests, some 2,890 firefighters failed.
The government said the majority of firefighters who lost fitness could improve in a few months.