Sisters hope to inspire other abuse victims to speak out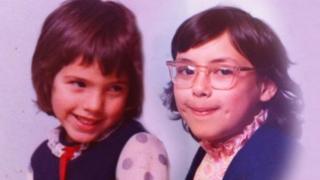 Two sisters who were raped by a neighbour 40 years ago have said they hope their story will inspire others to speak out.
Debbie Grafham was nine and Lorraine Delgiudice was seven when Patrick Ryan started abusing them in 1973.
Ryan, now 64, targeted the girls when he lived in the flat above their home in Blackheath, south-east London. He was jailed for 12 years in June.
Ms Grafham, from Eastbourne, said she had stayed quiet for too long.
'Absolute hell'
The judge described the experience of the sisters as harrowing and said they should be congratulated for turning their lives around.
In late 2011 and early 2012 the sisters - who have waived their right to anonymity - disclosed what Ryan had done to them.
Ms Grafham said: "It was absolute hell. He basically promised me that if I would let him abuse me he wouldn't touch my sister again.
"And he lied because I caught him time and time again."
She added: "We'd stayed quiet for too long and once it was out in the open I just wanted justice done.
"I didn't want to be scared or it to be a secret any more."
Ms Delgiudice said: "He's been punished now, it's a relief to me.
"I don't have to carry that around with me any more."
'Horrific and traumatising'
Pete Saunders, from the National Association of People Abused in Childhood, said: "It sends out a very clear message to society that survivors of abuse do not forget what's happened to them and abusers will need to think twice in future.
"And I think that's the real power of what's happening at the moment with so many survivors coming forward."
Det Ch Insp Pete Thomas, from the Metropolitan Police, said: "The ordeal these two women went through as young children was horrific and traumatising.
"To come forward after so long must have taken extreme courage and their determination to see justice has resulted in Ryan's conviction.
"Ryan is a convicted paedophile who will now be monitored for the rest of his life as a registered sex offender."
Ryan, from Plumstead in south-east London, was convicted in April at Woolwich Crown Court of four counts of rape, two of attempted rape and seven of indecent assault.