Giant vapour trail sculpture takes shape at Heathrow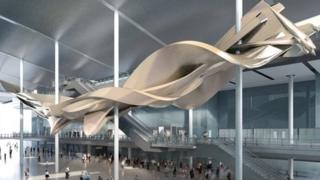 The new £2.5bn Terminal 2 at Heathrow airport is due to open next June. At its heart will be Europe's largest privately funded sculpture, designed to look like a jet's vapour trail.
As midnight passes, it is both thrilling and slightly weird to be standing in Heathrow's unfinished Terminal 2.
And we are all anxiously waiting for a biggie: a huge lorry carrying the latest slice of an enormous sculpture, Slipstream, to arrive from Hull where it has been engineered.
This is part 12 of 23 bespoke pieces and when it arrives it will be carefully hoisted into position, suspended from the ceiling of T2 where an estimated 20 million passengers a year will shuttle about their business beneath.
Essentially this is the next bit of a highly ambitious jigsaw.
Make a statement
When a building is constructed at this scale - the space where Slipstream will hang is about the same size as the turbine hall at Tate Modern - it raises the question of what on Earth do you put in it?
International airports have, by and large, turned a corner from soulless transitory areas to spaces that want to make a statement.
Even if a portion of the hordes of passengers expected through T2 when it opens are too jet-lagged to really engage with which country they are passing through, they will not be able to miss Slipstream.
This is the latest work from British artist Richard Wilson, arguably one of the greatest large-scale UK sculptors. It will become the longest piece of permanent art in Europe.
When it comes to these massive statement pieces of public art, the UK is a world leader - and size, if not everything, is very important.
The 23 sections of Slipstream together weigh 74 tonnes, and reach 70 metres in length.
Enthusiastic inventor
There are probably only a few sculptors with the know-how, experience and confidence to pull this off.
Wilson's previous hits include 20:50, a tank of reflective sump oil, and Turning the Place Over, where he chopped into a disused Liverpool office block and put it on a rotating spindle.
Earlier in the day, standing in the Hull workshop where Slipstream has been made, he seemed entirely unfazed by the immensity of the project.
Wilson, dressed in a patterned shirt that was very nearly Hawaiian and with a tendency to dance around on the balls of his feet as he explained Slipstream's creation, reminded me of a very enthusiastic inventor.
"Does anyone ever try and rein your ideas in?" I asked.
"Ha-ha! Not really. The guys here, they just seem to come up with solutions."
Shimmering aluminium
And so the engineering company CSI went about sourcing near 500,000 components for Slipstream, predominantly from local suppliers in and around Hull, and precision-cutting the different layers of the composite materials to give Slipstream its core.
The facade is covered in a shimmering aluminium, which sounds like a guaranteed showstopper. A piece of this scale with such precision and its own aerodynamic demands would not have been possible without recent advances in computer programming. Slipstream uses aeronautical computer technology.
The twists and turns of Slipstream are computer-generated too, a virtual flight path from Wilson's idea of an heroic display of aeronautical derring-do, a fantastical version of our own journey from A to B.
Once the somersaults had been realised and translated by the engineers, a stunt pilot, Paul Bonhomme, recreated them in the air.
The art commentator, Philip Maughan, writing in the New Statesman, stresses that "airports are astonishing for their capacity to make us indifferent to the miracle of flight".
What Slipstream does, he argues, is to reconnect us with the miracle of the journey we have just taken.
Glorious surface
Flying, Wilson suggests, should never be routine. He admits that, despite this homage to the genius of aviation, he remains fairly nervous of flying himself.
Some time around 02:00 BST, the enormous truck clears security at Heathrow and the gates are flung open at T2. Another slice of Slipstream has arrived safely.
If you saw a behemoth convoy travelling down the motorway at various stages this summer carrying a giant unidentifiable yet carefully wrapped shape, you could well have seen a bit of art history in the making.
Next year you will be able to witness the twists and turns of Wilson's creation first-hand if you travel through T2.
You will be able to move around the great piece of art and marvel at the way these sections slotted together to make one streamlined whole.
Or you can just bask in its glorious surface. Just do not get so caught up with this Slipstream that you miss your flight.