Project remembers Berlin Airlift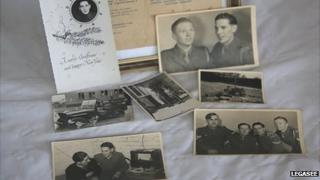 A Suffolk museum is celebrating the work of armed services in East Anglia involved in the 1948-49 Berlin Airlift as part of a £49,500 Heritage Lottery-funded project.
Charity Legasee has used the funding to work with a Suffolk school to help document airlift experiences.
The airlift was a lifeline for west Berlin when Soviet forces surrounded it and closed off land access.
A display has gone up at at the Norfolk and Suffolk Aviation Museum in Flixton.
The project, led in East Anglia by Juliana Vandegrift of Legasee with the support of the British Berlin Airlift Association, involved pupils from Bungay High School collecting information from veterans of the airlift to mark the 65th anniversary.
It has involved interviewing veterans from Yorkshire, Isle of Wight, Cheshire, Shropshire, Norfolk, Suffolk and Essex, which has produced the largest collection of hi-definition video interviews of the British involvement in the Berlin Airlift.
In the East of England airfields providing support to the airlift included RAF Oakington and RAF Waterbeach in Cambridgeshire and RAF Honington in Suffolk.
Legasee has handed an archive of information and filmed interviews to the Norfolk and Suffolk Aviation Museum, some of which will be used in a permanent display in recognition of the veterans' contribution to the airlfift.
Martin Bisiker, founder of Legasee, said: "With the support of the Heritage Lottery we've been able to film interviews with over 50 veterans of the first battle of the Cold War.
"It's an often forgotten but very significant chapter of British history which will now be enjoyed by military enthusiasts for generations to come."