Jail terms increased for burglars who targeted elderly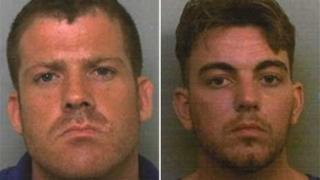 Two men who burgled dozens of homes in front of their elderly victims have had their sentences increased by a judge who said they left "a trail of misery".
At Bristol Crown Court in July, Michael McDonagh, 32, and Patrick Connors, 20, pleaded guilty to conspiracy to burgle.
They struck across England, deliberately targeting elderly and infirm people, the court heard.
The Court of Appeal increased Connors's jail term from five years to six and McDonagh's from seven years to nine.
Appeal judge Lord Justice Pitchford said the pair left "a trail of misery" in their wake.
The court was told the two men burgled 42 homes between last September and January and in many cases forced their victims to watch as they ransacked their properties.
Their nationwide spree came to an end after an investigation by Avon and Somerset's Serious Crime Group.
Seventeen burglaries were in the Avon and Somerset force area and there were other burglaries in Devon and Cornwall, Thames Valley, Warwickshire and Dorset.
'Daylight robbery'
Homes in Bristol, Bath, Bruton, Glastonbury, Keynsham, Little Stoke, Winterbourne, Clevedon, Street, Gurney Slade and Shepton Mallet were targeted.
The pair also travelled to Hereford, Grimsby, Cleethorpes, Shalbourne near Hungerford, Bodmin, Newquay, Polperro, Abbotsbury, Dorchester, Halford near Stratford-upon-Avon, Cumnor Hill near Oxford, Nailsworth and Tetbury.
Appeal judge Lord Justice Pitchford said the sentences had to reflect that McDonagh, a professional burglar on licence at the time, had committed offences which were "close to the the top of the scale of seriousness" for conspiracy to burgle, while Connors was his assistant.
He said the only mitigation for the pair was a lack of violence and their early guilty pleas, but there was no doubt the physical dominance they displayed over their victims resulted in them being cowed and frightened.
Speaking after the hearing, Solicitor General Oliver Heald, who referred the case to the Court of Appeal, said it had been a "terrible case of 'daylight robbery' in the homes of elderly victims".
He said: "I was dismayed that these burglaries took place when some of the victims were present, and they were forced to watch helplessly as these men took money and valuables including wedding and engagement rings from them."