Leicester house fire deaths: Man charged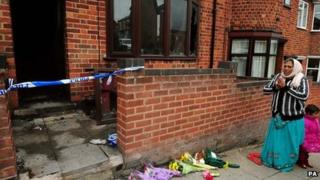 An 18-year-old man has been charged with murder in connection with a house fire in which four people died.
Shehnila Taufiq, who was in her 40s, her sons Jamal, 15, and Bilal, 17, and daughter Zainab, 19, died in the fire in Wood Hill, Leicester, last week.
The Crown Prosecution Service said, on review of the evidence, it concluded it was "in the public interest for a prosecution to take place".
The man will appear at Leicester Magistrates' Court on Friday.
Police have not yet ruled out a link to the murder of a man in Kent Street, hours before the fire on 12 September.
But Assistant Chief Constable for Leicestershire Police, Roger Bannister, said: "We do not believe at this moment that either the murder of Antoin Akpom or the murders on Wood Hill are racially motivated."
Mr Akpom, 20, a coach and former player at Leicester Nirvana FC, died after being stabbed.
ACC Bannister added: "I would like to thank the people of Leicester for their support during this complex investigation and for coping so patiently with the disruption during this investigation and the murder of Antoin Akpom.
"As a chief officer with Leicestershire Police I will continue to oversee the investigation and the wider impact on people in the city."
On Thursday, a 19-year-old man appeared at Leicester Magistrates' Court charged with the murder of Mr Akpom.
Abdul Hakim, of Wood Hill in Leicester, was remanded in custody.