Nigel Farage seeks to stop the UK's "lights going out"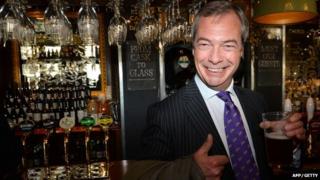 As delegates prepare to gather in London for the UK Independence Party's annual conference they are in chipper mood; it's the party's 20th anniversary and it's come a long way since it was founded.
UKIP's performance in the 2013 local election was the "biggest surge for a fourth party" in British politics since World War II.
It now has 140 seats, won 23% of the projected national share of the vote and did particularly well in the South East.
In Kent, UKIP is now the party of opposition after winning 17 wards. It also performed well in Thanet, taking seven out of the eight seats and leaving the Conservatives without a representative on the council.
Despite its success at local elections and the fact the party has 11 of the 73 UK seats in the European Parliament, three members in the House of Lords and one seat in the Northern Ireland Assembly, it still doesn't have a single MP at Westminster.
The party's leader and South East MEP, Nigel Farage, seems unperturbed by that.
He says: "I hadn't noticed the Greens having an MP or Respect having an MP had really improved their party's fortunes at all - so I don't think getting one person elected is what really matters."
He says his focus is not on the 2015 General Election but on next May's European elections where he hopes to cause "an earthquake" and build momentum for 2015.
Energy shortage
He wants to prove at this party conference that UKIP is a real political force - not just focused on Europe and immigration - but on wider issues.
One of his key themes will be energy.
He's calling for the Climate Change Act to be scrapped to help prevent the UK's "lights going out".
Mr Farage says Britain no longer controls its energy policy - Brussels does - and says it's time to reject that and only UKIP can tackle the issue of the country's energy shortage.
I point out that in order to change policy he would need to be elected to Westminster but he repeatedly refuses to be drawn on whether he would - as previously hinted - stand as a prospective parliamentary candidate in Kent.
'Only alternative'
He also rejects the suggestion that UKIP risks splitting Conservative support in the South East, essentially letting Labour in by the back door.
Mr Farage says at the local elections "Thanet was a key Labour target - what happened - the Tories lost the seats and UKIP won the seats, not Labour".
He says it's far too simplistic to say that UKIP takes Conservative votes and says the party has picked up votes from Labour, the Liberal Democrats and is reaching out to those who haven't voted before.
UKIP provides the only alternative from the main parties, according to Mr Farage, because "frankly, we've ended up with a very bland form of politics in this country".
Certainly no one could accuse Nigel Farage of being bland but he still has some way to go if he wants to prove UKIP is a realistic prospect at the next general election.
UKIP will gather in Westminster on Friday, while the Conservatives will hold their conference in Manchester, and Brighton will host the Labour Party conference. The Liberal Democrats have been holding theirs in Glasgow, while the Green Party went to Brighton.