Nick Clegg defends government commitment to foreign aid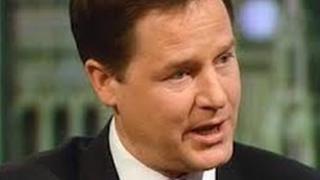 The deputy prime minister Nick Clegg has defended the government's commitment to ring-fence the overseas aid budget.
Some politicians have questioned the need to spend 0.7% of national income (GDP) on foreign aid.
Latest figures suggest the UK's annual aid budget is estimated at £11bn.
In an interview for the Sunday Politics in Yorkshire and Lincolnshire, Mr Clegg said: "It means we try to help other countries dealing with grinding poverty, violence, extremism and conflict - which in turn creates a more stable world.
"It also means people are encouraged to stay at home, rather than move across continents and borders to seek to live illegally in this country."
The issue hit the headlines recently when the UKIP MEP Godfrey Bloom suggested that government aid was being sent to "bongo bongo land".
Mr Bloom later apologised for any offence he may have caused by his use of the phrase.
The Yorkshire and the Humber MEP was filmed telling an audience that aid was being used to buy "Ray-Ban sunglasses, Rolex watches, Paris apartments and all the rest of it".
Aid essential
A number of charities criticised his comments and argued that taxpayer-funded aid was essential for some of the world's poorest countries.
Some agencies cite the humanitarian crisis in Syria as an example of how western governments can help troubled parts of the globe.
Yet many critics of the UK's aid commitment remain, such as Conservative councillor Chris Underwood-Frost from Lincolnshire
The former soldier has been diagnosed with terminal brain cancer and believes the government should redistribute the money spent on overseas aid to the NHS.
Mr Underwood-Frost said: "It's far better that we spend money keeping people alive in this country rather than sending it abroad.
"We have places like India who are financing their own space race. It's wrong."
Overseas aid is an issue that clearly polarises opinion.
But despite the government's arguments, there are many who insist that charity should begin at home.