Pilot culls will see 240 badger carcasses examined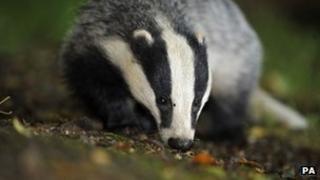 Badger cull opponents are criticising the government after discovering that a total of 240 badgers will be examined to see if they were killed humanely.
Pilot culls began three weeks ago in Gloucestershire and Somerset, aiming to kill some 5,000 badgers in six weeks.
Care for the Wild said the 240 figure was a "tiny fraction" of the overall cull, and said it would not prove they were all being killed humanely.
Defra said the number was set following advice from statistical experts.
Bullet wounds
Freedom of Information (FOI) requests on the numbers made by anti-cull campaigners have been confirmed by the BBC with Defra and Natural England.
Some of the FOI requests were made by Care for the Wild, as well as individuals against the cull.
Care for the Wild spokesman Dom Dyer said: "They are examining a very small number of animals out of 5,300 - it is a tiny fraction of the overall number of animals to be killed.
"They will be looking at the bullet wounds, they will be looking as to whether they will be killed outright from one shot or if they were killed by more than one shot."
Defra has 24 monitors working in the field with a further three collating and assessing data. Natural England has five staff monitoring the cull - with two people on the ground at any one time across both zones.
'Difficult to monitor'
The FOI requests show that there are a total of 33 officials overseeing the two culls.
Mr Dyer said: "These are large areas the size of the Isle of Wight. They are very difficult to monitor unless you have a substantial number on the ground."
But Jamie Foster, from Clarke Willmott solicitors in Taunton, said: "In terms of the amount of monitors, it is clearly enough - we have an entire legal profession which is not monitored on a one-to-one basis and nobody would expect it to be.
"Any suggestion there would need to be a huge army of marchers at public expense watching this operation take place is frankly mischievous."
The monitors will need to see a minimum of 60 badgers being shot by rifles and 60 by shotguns.
A spokesman for Defra said: "We have developed robust methods to monitor the humaneness of the badger cull drawing on expertise in animal welfare, which have been approved by an independent expert panel."