Martin McGuinness tells peace lecture of 'journey of hurt and pain'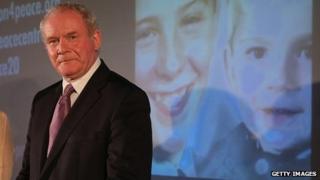 It is more than two decades since Colin Parry lost his son when two IRA bombs detonated in Warrington's shopping district.
Tim Parry, 12, died of injuries sustained in the bombing, as did three-year-old Johnathan Ball.
Twenty years on from that day and a couple of miles away, in the peace centre built in the name of the two young victims, he welcomed Northern Ireland's deputy first minister Martin McGuinness to deliver a peace lecture.
Mr Parry said the decision to invite the former IRA commander to give the lecture when they met in Belfast earlier this year, had been one based on "choices".
"Most of the time we can make free choices but there are times when we can't," he said.
"I had the choice to invite Martin. Conversely, I had no choice to hold my son when he died, to carry his coffin.
"After we lost Tim, we faced tough choices; making Tim's life count and create a fitting legacy in his name and Johnathan Ball's name."
'Emotional occasion'
Mr Parry has not forgiven the IRA for what happened to Tim, nor has his family.
His decision to invite Mr McGuinness angered some. Brian Hambleton, whose sister Maxine died in a Birmingham pub bombing in 1974, travelled with 10 supporters to protest outside.
He likened it to "inviting Myra Hindley to a childminding conference".
However, inside the building, Mr McGuinness was greeted by warm applause.
It was an emotional occasion and he said he had been reflecting on what to say.
"I keep coming back to the journey which has involved much hurt and pain," he told the audience.
'Sadly regretted'
Earlier this year, Mr McGuinness said the Warrington bomb was "something that could not be supported - the deaths of two children, of anyone in the conflict is to be sadly regretted".
"We were working through a period of conflict at that time [but that] doesn't mean the people who were part of the conflict can't appreciate the terrible losses people had to endure," he said.
"I have four children myself and if that had happened to one of my children, I think it would've had a very profound and deep impact on me as a father."
At the lecture, he said the deaths of the two boys was "absolutely shameful," but he had seen "the loss of lives of other children killed by plastic bullets from soldiers" and had followed many coffins and stood next to many grieving families.
'Accept responsibility'
"There can be no greater tragedy in life than parents having to bury their child," he explained.
"The deaths of children as a result of the conflict is something that those of us who were engaged in armed organisations, be they British or Irish, have to accept responsibility.
"As a republican leader, I think it would be hypocritical of me to seek to distance myself from the consequences of armed struggle or the IRA's role in it.
"Nor can - or would I - attempt to excuse the human loss caused by the IRA bomb in Warrington."
He said he remembered the "heartrending" scenes of overwhelming grief in 1993.
On the day of the bombing, a meeting scheduled with a British government representative was cancelled. It resumed two days later.
The British could have walked away, Mr McGuinness said, but knew the solution "lay in dialogue".
"Regrettably, the past cannot be changed or undone. Neither can the suffering, the hurt or the violence," he continued.
"None of this offers any comforts to the many victims of the conflict on all sides."
'Queen a victim'
During an "exceptional, yet humbling" visit to Warrington in 2001, he met the Parrys.
He hoped to be in the town for the 20th anniversary in March, but "had other duties".
He said: "My heart goes out to all the people who suffered in the conflict in Northern Ireland."
When he met the Queen last year in Belfast, he was conscious she was a victim, "a human being who was bereaved at the hands of the IRA and still a strong supporter of the peace process."
He praised the beacon of hope at the centre and Colin Parry for being a "champion for peace and the resolution of conflict".
In the main, his words were welcomed.
But, there was a sole heckler, who sat in the front row. The grey-haired man accused Mr McGuinness of showing a lack of contrition.