University Hospitals of Morecambe Bay Trust 'not meeting targets'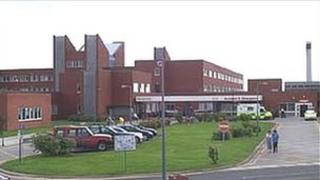 An under-review NHS trust has still not met recommendations to improve emergency care at two hospitals, according to health inspectors.
The University Hospitals of Morecambe Bay NHS Foundation Trust (UHMBT) met seven of 40 suggestions from the Care Quality Commission for Furness General Hospital and Royal Lancaster Infirmary.
A CQC investigation was launched into the trust last year.
UHMBT said it had made "good progress" in meeting most of the CQC's concerns.
During a follow-up review in April, the CQC found 30 of its recommendations had been partially met by the trust.
Inspectors said three had not been achieved and to meet these, the UHMBT must:
Ensure qualified and experienced staff are available within the accident and emergency department at all times
Improve its complaints handling and response systems, and introduce changes where necessary
Develop its vision and values to change the culture within the trust
'Made good progress'
Malcolm Bower-Brown, CQC regional director for the North, said the commission was "pleased to report evidence of improvement" but said there was "still a great deal of work to be done".
He said inspectors would "continue to monitor the trust closely until we are assured required service improvements are fully embedded and patients are receiving safe and effective services on a sustainable basis".
A CQC spokesman added the publication of the follow-up report marked the end of the commission's formal investigation into the trust.
Since the investigation was launched, UHMBT has invested £5.5m in patient services and another £1m has been spent on more doctors, nurses and clinical support workers in its emergency departments.
UHMBT chief executive Jackie Daniel said: "Staff across the organisation have really come together to improve things for the benefit of our patients.
"We accept that we still have work to do in the areas highlighted in the report where we were found to be partly meeting, or not meeting, the standards."
She added that "positive steps" had been made after the inspection and added the trust aimed "to not only meet all the recommendations but exceed them".