River Kennet wildlife repopulated after chemical contamination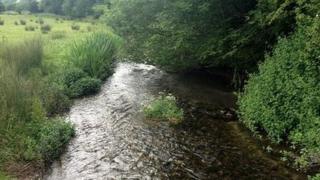 A stretch of the River Kennet is being repopulated with wildlife after it was contaminated with chemicals.
Part of the river between Hungerford and Marlborough became polluted by Chlorpyrifos pesticide in July.
Now Mayfly, caddisfly and freshwater shrimps are to be moved from healthy sections of the river.
Scientists from University College London (UCL) have begun working with volunteers from Action for the River Kennet (ARK) and Savernake Flyfishers.
Charlotte Hitchmough from ARK said: "This approach is experimental. Usually rivers are left to recover naturally, but this takes years.
"Working with UCL scientists we are moving invertebrates from healthy reaches to the damaged reaches and then measuring whether they recover faster than those where nature is left to take its course.
"It was volunteers who originally discovered the serious pollution, so it's great that the same people are able to join in to do something to help the river's recovery."
At the time of the incident, on 1 July, the Environment Agency said pesticide had affected a number of invertebrates but not the river's fish.
A 10-mile (16km) stretch of the river, which is a Site of Special Scientific Interest (SSSI), was affected.
An ARK spokesman said all the freshwater shrimp, mayfly and caddisfly in the affected section of river appeared to have been wiped out.
Ms Hitchmough said river fly counts carried out by ARK in August had already showed an increase in the invertebrate population of the river since the pollution occurred.