PM: Spurs fans 'Yid' chants should not be prosecuted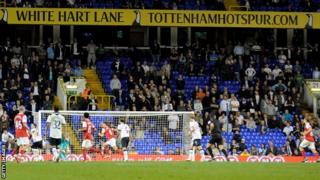 Tottenham Hotspur fans who chant the word "Yid" should not be prosecuted, according to the prime minister.
David Cameron told the Jewish Chronicle there was a difference between Spurs fans "describing themselves as Yids" and the word being used as an insult.
The north London club have a strong Jewish following who have been the target of anti-Semitic abuse, but some fans use the term.
Spurs have sent a questionnaire to fans to ask if the practice should stop.
The prime minister's comments came after the Football Association (FA) issued a statement warning supporters that the use of such words could result in a banning order or criminal charges.
'Hate speech'
Mr Cameron said: "There's a difference between Spurs fans self-describing themselves as Yids and someone calling someone a Yid as an insult.
"You have to be motivated by hate. Hate speech should be prosecuted - but only when it's motivated by hate."
Chants of "Yids", "Yid Army" and "Yiddos" are regularly heard in the home stands at White Hart Lane.
During Saturday's match between Spurs and Norwich, fans reacted to the FA statement by chanting "Yid Army" and "We'll sing what we want".
The charity Community Security Trust, which advises Jewish groups on security, said although the use of the word "Yid" by fans "does not justify prosecution", it is still offensive.
"It remains an offensive word that can upset many Jews both inside and outside the football context," a spokesperson said.
"Ultimately, ridding football of anti-Semitism needs to involve Spurs fans voluntarily dropping the Y-word from their songbook."