Red squirrels rise by 7% in North after decline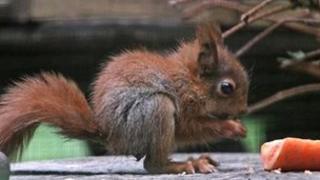 The red squirrel population in the north of England has risen after 140 years of decline, a study has found.
Almost 300 woodlands were visited in the north, including in Cumbria and Northumberland, and the number of reds was found to have risen by 7% compared to spring 2012.
The three-month study was carried out by volunteers for the wildlife group Red Squirrels Northern England (RSNE).
Volunteers also found that pox-carrying grey squirrels were on the decline.
The RSNE said helping preserve woodland habitats, conservation projects and volunteer projects had helped halt the decline in the population of reds.
Volunteers used a range of different monitoring techniques, including visual counts while walking though woodlands and filming via remote cameras.
'Iconic species'
Sticky pads were also put down in woods to trap squirrel hairs to be examined under a microscope.
Volunteers also spotted the animals in Ambleside and Rydal in Cumbria for the first time in a decade.
Phil Bailey of the Brampton Red Squirrel Group helped monitor the animals in Brampton and Wetheral.
He said: "The monitoring has helped us learn that there are now 20 squirrels close to our home here which inspires us to continue our efforts to save this native iconic species".