Failed coastline challenge team reschedules attempt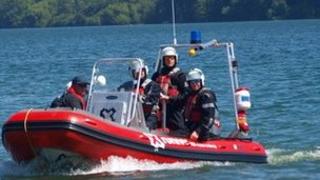 A team of rescue workers has rescheduled an effort to circumnavigate the British coastline after a technical failure with their boat.
The team, mainly from Derbyshire, had set out from Poole Harbour last week but abandoned the attempt after nine hours following an "ingress of water".
Their plan was to visit eight lifeboat stations en route and raise £20,000 for two search and rescue organisations.
They plan to try again to cover the 1,999-mile (3,200km) route in 2014.
The challenge team of 10 had planned to use a 5m (16ft) open rigid inflatable boat to sail clockwise around the British coastline, completing the journey in nine days, nine hours and nine minutes.
The first crew encountered heavy sea conditions and took the boat into the port of Ilfracombe in Devon when it took on water.
Organisers said a replacement vessel could not be found and as most of the search and rescue workers could not extend their leave, a decision was taken to postpone the challenge until next year.
Money raised was to go to both the Royal National Lifeboat Institution (RNLI) and Watersafe UK Search & Rescue Team.