Gloria Foster's death report: 'Serious mistake' in care of widow left without food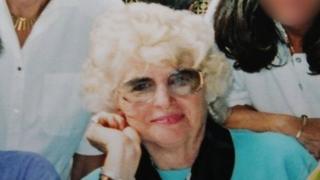 The death of an elderly woman who was left without food and medication for nine days followed a "serious mistake" in her care, a report has found.
Gloria Foster, from Banstead in Surrey, died in February after her care agency shut with no replacement, following a police and UK Border Agency raid.
Surrey Safeguarding Adults Board said "professional omissions" were made by a social worker in Reigate and Banstead.
Surrey County Council said two members of staff had been suspended.
The council apologised for its "failure to help" Mrs Foster and said disciplinary action would follow the findings of the report into her death.
The 81-year-old widow was found by a district nurse suffering from dehydration and starvation nine days after Agency Carefirst24 was shut down. She died in hospital two weeks later.
The Surrey Safeguarding Adults Board report states: "A serious mistake seems an inadequate description of what happened. But leaving aside all the 'what ifs', that is exactly what happened."
'Serious consequences'
It said the "professional omissions" made by a social worker at the Reigate and Banstead office were based on "false assumptions" that were not questioned by the worker's supervisors.
The report said the "actions involved, or rather inaction, were not intentional or deliberate", but Mrs Foster's death "confirms that serious mistakes have serious consequences".
Surrey Safeguarding Adults Board chairman Simon Turpitt said: "There are certainly lessons to be learned here and, by implementing the actions recommended, we are looking to ensure the circumstances which caused Mrs Foster to be without care for several days can be prevented from happening again."
The board has published 14 recommendations, including requesting council investigations into how information supplied by the Metropolitan Police before the raid was dealt with and the absence of any record of a telephone call being made to Mrs Foster to check her welfare.
Sarah Mitchell, Surrey County Council's strategic director for adult social care, said: "We are very sorry for our failure to help Gloria Foster to get the support she needed.
"This report points out we should have done more and we completely accept that.
"While we have already made changes following this dreadful case we'll now act on these findings to do all we can to prevent anything like this happening again."