Fens migrant workers 'exploited', BBC finds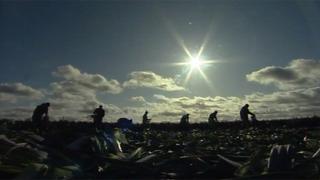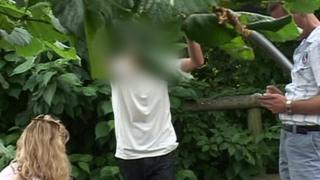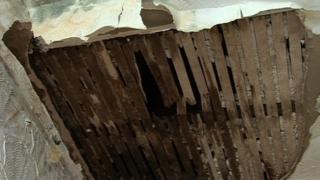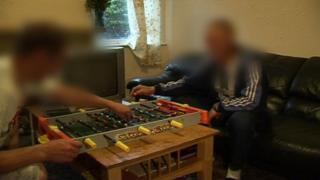 Eastern European migrants employed in the Fens to pick leeks sold in supermarkets are trapped in a widespread network of exploitation, the BBC has discovered.
A four-month investigation found evidence of migrants being forced to pay fellow countrymen bribes just to get a few days' work in the field - and some being left to live on less than £1 a week.
Some workers told the BBC they were brought in from Latvia and Lithuania on the premise of non-existent jobs and then housed in overcrowded squalid homes in Cambridgeshire.
Although these migrants are in the UK legally, the people finding them work are breaking the law by not being licensed. Some of them are also being paid below the minimum wage.
Many are trapped in debt after being fined up to £1,000 for failing to turn up for work.
About a third of the estimated 20,000 population of Wisbech, in Cambridgeshire, is made up of migrant workers.
Nearby agricultural land yields almost half the fruit and vegetables grown in England. Many crops have to be hand-picked so farmers rely on migrants to bring in the harvest.
The workers are paid fairly by the farms through legal gangmasters rather than the owners of the farms they work on, with farmers unaware of any exploitation.
'Kill girlfriend' threat
One 19-year-old from Latvia, who did not want to be named, said the threats began after he refused to pay a bribe to secure casual labour.
"He act like your friend, you know. 'I try to help you and then you will pay me money', he said. 'I will kill you, I will kill your friend, your girlfriend.'
"He came in the house and took mine, my friends, my girlfriend's passports."
Another migrant worker, who also asked for anonymity, told us he paid £236 to be trafficked from Lithuania on the promise of a job. But when he arrived, he was dropped off to queue up at a recruitment agency.
"They promised us that there would be work. They showed us the pay cheques that they are really sending people over there and they are working.
"That's how we got here by believing in them. I would have earned more money in Lithuania."
Regulations for agricultural gangmasters were tightened following the Morecambe Bay tragedy in Lancashire nine years ago when 23 Chinese cockle-pickers drowned.
It is now a criminal offence to work as a gangmaster without a licence, or use an unlicensed provider.
Gangmaster 'deductions'
However, the BBC has found evidence that gangmasters are supplying workers to the leek industry without a licence, in breach of the regulations.
Anita Grodkiewicz, who runs the Rosmini Centre charity in Wisbech, says many migrants are coming to her organisation for help.
"People are still paying to come over. When they get here there is no accommodation, there is no work, so basically contracts are false.
"That still happens but now it is more about immoral issues that are happening rather than so much illegal."
Ivar Mezals is described by a worker as a "gangmaster" who provides work, accommodation and wages.
There is no suggestion that he subjects his workers to violence but most weeks Mr Mezals makes deductions.
One worker told us he was left with just £20 one week.
"I didn't have money to pay for the rent and every week I borrowed from Ivars £20 to pay for food," the worker told the BBC.
"I was in debt of £230.
"I paid that debt in three weeks and Ivars used to still take the money for the debt which I didn't owe... so he used to still take deductions off my wage for the debt."
'Surviving on 43p'
Another migrant, a man in his 20s from Lithuania, told the BBC he was being paid below the minimum wage.
He showed us pay slips recording that he worked one hour at a rate of £84.47.
But he claims that was for three days' work, meaning he was earning just £2.30 an hour.
His landlord - Mr Mezals - also deducted his rent and travel to the fields, leaving him with £20 for the week. One week, when rent arrears were deducted from his pay packet, he was left with just 43p to survive on.
When confronted by a reporter, Mr Mezals said: "I don't exploit anything" and "maybe police have evidence but not you."
One of the companies where the migrants were found work was unaware of the exploitation.
It sources its workers from licensed gangmasters who pay fair wages and said it was deeply concerned about any allegation of sub-contracted labour.
The BBC approached Marks and Spencer, Waitrose, Asda and the East of England Co-Op, which all sell leeks grown in the Fens in their supermarkets.
All said they took the allegations very seriously and would act on any information of unfair treatment.
To see more on this story, watch Look East at 18:30 BST and Inside Out at 19:30 BST on BBC One in the East.