Display for Shropshire FA Cup hero Clopton Lloyd-Jones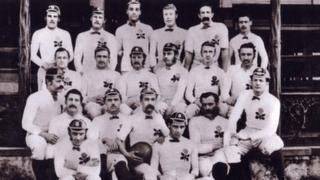 An exhibition has opened in honour of an amateur sportsman who scored the winning goal in an FA Cup final.
Clopton Lloyd-Jones, who was born in Shropshire in 1858, won the cup with Clapham Rovers in 1880.
Described by a team-mate as "a very neat dribbler and a dangerous shot at goal," Lloyd-Jones was the only scorer in the game against Oxford University.
St Thomas' Church in Hanwood, Shropshire, displayed images of his life, including his sports career.
New club disbanded
The exhibition on Saturday and Sunday also had a history of his birthplace, Hanwood House, which was demolished in 1972 when the land was sold to developers.
Following the success in the cup final at Kennington Oval, Lloyd-Jones established himself as a bookmaker in Shrewsbury in 1884 and joined local football team Shrewsbury Castle Blues.
The club was wound up by the authorities in 1886 when the team was found guilty of "consistently violent play" after which he ended his active football career.
Lloyd-Jones also played rugby, tennis and county cricket, won regional athletics medals, and joined a bowls club where in 1911 he won the Allcroft Vase.
He was the starter at sports days held to commemorate the marriage of the future King George V in 1893, the 500th anniversary of the Battle of Shrewsbury in 1903 and the coronation of George V in 1911.
Lloyd-Jones died in 1918 from bladder cancer.
His FA Cup winners' medal was sold at auction in 2008 for £4,200.