Plymouth paedophile Goad 'did not act alone'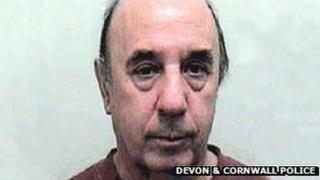 The judge who jailed prolific paedophile William Goad, who is thought to have abused up to 3,500 boys, believes he did not act alone.
Goad, who lived in Plymouth, was jailed by Judge William Taylor in 2004. He died in prison last year aged 68.
A new investigation by Devon and Cornwall Police has been launched following a complaint from one of his victims.
Goad abused boys over a 35-year period dating back to the 1960s.
Judge Taylor told The Herald newspaper: "On a personal note it would offend against common sense to assume that Goad behaved in this way entirely on his own."
On Friday, an ex-detective claimed the new investigation linked to Goad could uncover "hundreds" more victims.
Ex-detective Shirley Thompson said she believed a paedophile ring linked to Goad could still be active.
In 2004, Goad pleaded guilty to 14 specimen counts of serious sexual assault and two counts of indecent assault and was sentenced to life in prison.