Cat 'peppered with airgun pellets' in Lingfield attack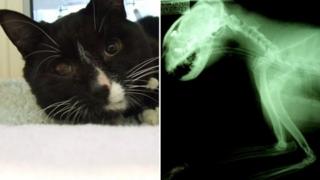 A cat was blinded and left with pellets embedded in his body and head after a "cowardly and vicious" airgun attack.
Billy, a two-year-old black and white stray, was found with severe injuries in Lingfield, Surrey, by a member of the public and taken to a vet.
X-rays showed the animal had at least four pellets in his skull and a number of others in his body.
Cats Protection veterinary officer Nathalie Dowgray said: "It is remarkable he survived the attack."
Most of the pellets were embedded too deeply for vets to be able to remove them.
Billy is being looked after at the Cats Protection's National Cat Adoption Centre in Chelwood Gate, Sussex.
'In agony'
Ms Dowgray said: "When Billy was found he had very serious injuries - to his head in particular - and as a result he is totally blind in one eye and may only be able to see shadows with the other.
"He had so many puncture wounds it was at first assumed he had been attacked by another animal but when we looked at his X-rays we could see his whole body and head were literally peppered with airgun pellets.
"We can see four quite clearly embedded into his skull... he must have been in agony for a number of days before he was found and taken to a vet."
She added: "This was a disgusting and inexcusable act of mindless cruelty inflicted on a defenceless animal."
An RSPCA spokesman described the attack, carried out six weeks ago, as "cowardly and illegal".
He added: "Anyone with information that might help us find the individual who thinks that it is perfectly acceptable to shoot defenceless animals is urged to get in touch."