Whitchurch-On-Thames bridge diversions announced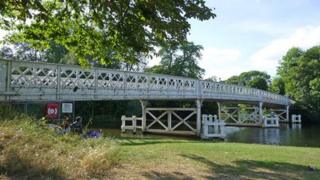 Traffic diversions have been announced ahead of a seven-month reconstruction of a bridge over the River Thames.
Whitchurch toll bridge, between Oxfordshire and Berkshire, is being rebuilt and restored at a cost of about £4m. Work begins on 3 October.
Traffic will be diverted over bridges on either side at Caversham and Streatley.
Reconstructed in 1902, the privately-owned Grade II listed bridge carries about 6,000 vehicles a day.
Geoff Weir, from the Whitchurch Bridge Company, said: "It's a metal bridge which has got to the stage where its condition is giving cause for concern from a safety and integrity point of view.
"Metal bridges tend to have a life span of around 100 to 110 years because of the corrosion from substances like road salt and the weather.
"The reconstruction will provide the bridge with new load-bearing elements, but many of the visual features of the current structure will be refurbished."
Nicola Swan, chairman of Streatley Parish Council, hopes the knock-on effect of congestion will be minimised.
She said: "The first couple of weeks may be a bit chaotic, but we feel it will settle down after that.
"Plenty of work has been done with West Berkshire Council highways to try and ensure traffic flows as freely as possible."
Work has begun on a temporary pedestrian bridge linking Pangbourne and Whitchurch, which will open before the road bridge closes.
Oxfordshire County Council is managing the reconstruction on behalf of the bridge company and its contractor.
The new structure is set to open on 14 April.