Naeem and Nabeel Ahmed jailed for raping teenager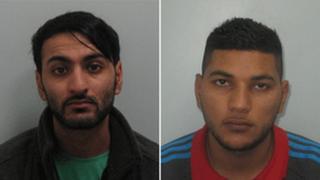 Two east London men found guilty of raping an 18-year-old woman who they pretended to help have been jailed.
Car salesman Naeem Ahmed, 25, of Barking, was jailed for 14 years while mechanic Nabeel Ahmed, 24, of Romford, was jailed for eight years.
Nabeel saw the woman was upset after she had argued with a friend.
He offered to give her a lift in his car to a railway station but instead he picked up Naeem before taking her to an address where they raped her.
When the men left, Hassan Raza, 24, a caterer, also from Barking, pretended to feel sorry for the woman before he sexually assaulted her.
He was jailed for three years.
'Great bravery'
The three men, who were on trial at Snaresbrook Crown Court, were cleared of further sex offences against two girls who were in the care of Essex County Council.
Det Sgt John O'Brien said: "Nabeel Ahmed chose this woman because she was vulnerable.
"Having befriended her, and convinced her he would help her, he instead took her to his friends and they all sexually abused her.
"The victim showed great bravery in reporting the offences to the police, and even greater courage in giving evidence.
"While no sentence could ever undo her suffering, I sincerely hope today's result will enable the victim to begin rebuilding her life.
"I urge all victims of rape to report the matter to the police, who have specially trained officers ready to provide them with the sensitive support that they need."
All three men have been put on the sex offenders register.